The St. Roseline Stroll
The concept
From June 1, 2021, Château Sainte Roseline offers you an interactive walk in the heart of its vineyards called « La Balade Sainte Roseline ». A 3.5 km loop around the domain, punctuated by 7 interactive stages.
Each step will be materialized by a desk with a QR code referring to dynamic content. An explanatory text accompanied by photos and videos will explain the biodiversity, the history of the places, the fauna and flora that is around you. A map will locate where you live to guide you step by step.
The Sainte Roseline Walk is a fun way to discover the estate's environmental commitments but also the history of the classified site and the wines. This footpath will be freely accessible to all visitors. It is possible to do the Sainte Roseline walk on foot or by bike.
At each stage a small quiz will be proposed to you, in the event of a correct answer, a reduction will be offered to you at the cellar.
Don't hesitate to stop by the boutique to complete your visit with a tasting of our cuvées.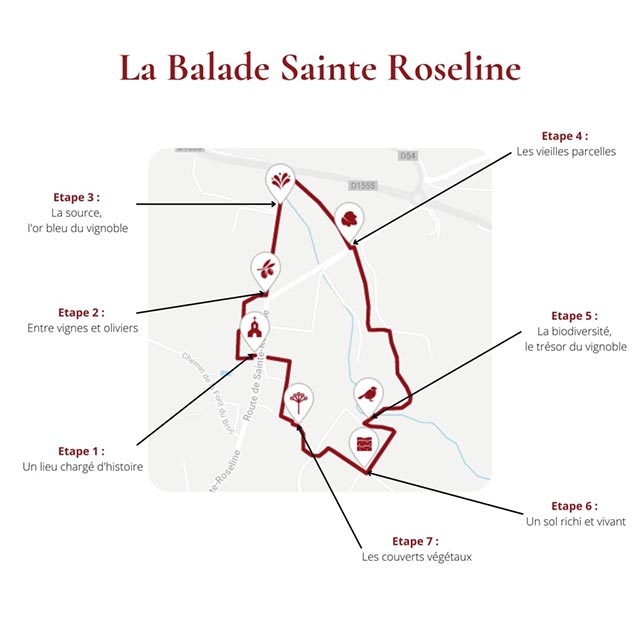 Steps
Step 1 : A place steeped in history
Step 2 : Between vineyards and olive trees
Step 3 : The source, the blue gold of the vineyard
Step 4 : The old plots
Step 5 : Biodiversity, the treasure of the vineyard
Step 6 : A rich and living soil
Step 7 : Plant cover